Being the home of espresso and pasta, Italy is always praised for its flourishing café culture. Humble, quiet and softly delicious, these are my favorite words which an Italian café usually gives off. Lately, I found a hidden attraction which embraces the vibe of Venice's old café and following are my thoughts on the visit.
What is it?
Café Dibar is an authentic Italian bistro which is known for its reasonable and tasty dishes. Even Though there are a handful of pizza and pasta houses in the town, it's rare to see authentic Italian cuisines such as Risotto, Gelato, Baked rice, Gratin, Soups, Lasagna and Sausages in one single place. The existence of it seems like a little oasis for every pasta-lover like me. The one I visited is located at the tranquil corner of Kanbe road and Kabar aye pagoda road in Yankin township, just across the Central Business Yard. There are two more branches running in Myaynigone and Sanchaung as well. 
Atmosphere
The café is in a big compound with a spacious car parking lot. These days, they decorated the entrance with a touch of green plants which is a matching theme to the rainy season. As soon as you step inside, an earthy and woody odor will welcome you since there are some fruits, wooden furniture and retro equipment such as sewing machines, food containers from the 90s and barrels acting as interior decorations. Actually, I'm not really into those kinds of odor but I don't mind it either.
Indoor is fairly spacious and you can see around 15 tables being set up. Some old shelves, hanging pans, vintage paintings and Italy maps are calmly attached to the wall which is really cool. 
We also saw some outdoor seats which were actually not outside but in another open-type hall. 
Menus and Recommendations
The Café serves a wide variety of Italian dishes, starting from small bites, Salads, Lasagna, Creamy soups, Baked Rice, Risotto, Pizza, Short and Long Pasta, Seafoods as well. For coffee, only classic espresso, cappuccino and latte are available but you can also have soft drinks, juice, beer and wine if you wish. 
The price range is between 4,000 Ks to 20,000 Ks which can be considered quite reasonable compared to the other restaurants these days.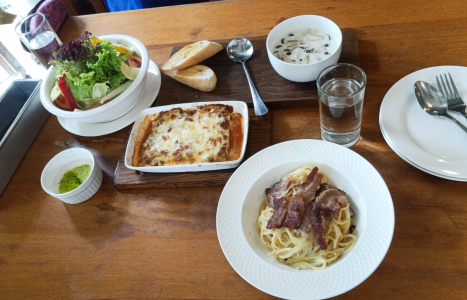 Our orders were Caesar's salad (7,000Ks) , Mushroom soup (5,000Ks), Carbonara spaghetti (8,000Ks) and Beef Lasagna (8,000Ks). In standard dining culture, the starters were supposed to be served firstly but the Carbonara arrived first among all the orders. While we were waiting for the starters, our Carbonara got a bit cool and sticky to our liking. But here comes our compliments. All of the dishes came out with super big portions and most of them satisfied me especially the Caesar salad and Lasagna. The dressing for salad was very tasty and I even asked for another cup. The meat inside Lasagna was super tender and it just melted on our palate. The soup was okay but it just gave a milky flavor rather than a true salty mushroom taste. 
Final Thought
People's consumption here in Yangon is changing and they always seek for peaceful restaurants for a date with their beloved ones on the weekends. Café Dibar is one of those ideal places which check off those facts. The location is an easy access from every where and there are many picturesque corners in the café. You can have a decent Italian meal and have a quality time with your date. Moreover, the price is very affordable for everyone. Customer service was okay and the staff were attentive too. It was also one of the nominees of Best Italian Restaurant for Myanmore award 2015. To sum up, it was a nice dining experience for me.