Christmas is just around the corner and another promotion meal set is waving at you.
Meraki Lounge, a new face in the town which offers European dishes, coffee, wine and other beverages in an ambience of elegant emerald color. Starting from 15th Dec, an attractive offer from them popped up and I want to share the information to you.
You can enjoy four-course-set menu including
1.Roasted Beer Chicken
2.Tomato Soup
3.Grilled Prawn Salad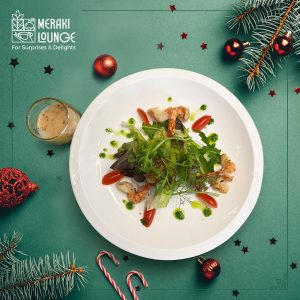 4.Creme Brûlée and
It will cost 37,000 MMKs instead of 74,000 Ks which is a delightful discount for these delicious meal. Since this 50%-off-promotion will end on 22nd Dec, you'd better grab the chance of experiencing a good dining moment.
For more information or if you want to do reservation..
Opening hours – 9 AM to 9 PM
Phone number – 09406335559
Address – No. 22, Aungzeya Street, Yankin Township, Yangon
Nearest Bus stop – Kyout Kone
Map Link – https://tinyurl.com/bddc34xf