Chef Orng has become known for connecting with his customers and showing his passion through food. Due to the current situation and Covid-19 Pandemic, Chef Orng shut down his restaurant 'Joitamoi by Chef Orng' just 5 days ago. However, his passion for culinary does not stop there.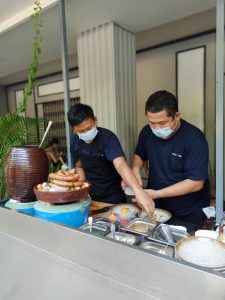 Chef Orng starts a fresh beginning with a street food store. The concept was to create a space where people can connect easily, relax and chill while friends and family eat street food together. 
Currently, Chef Orng and his team are providing porridge with variations of pork and chicken as well as sausages. There is also a reason behind why he picked porridge specifically. 
"Porridge in Myanmar is considered as a type of food where people only eat them when a person is not well-off. We want to change the mentality and mindset of people who think this way. Porridge can be served with quality and can be as enjoyable as fine dining. Just because it's porridge, it does not mean we lower our quality. We provide the same quality of food and the only difference is the ingredients." – Chef Orng
Although his business was overturned, his passion was never affected. The happiness and satisfaction of customers was the only goal he wanted to achieve. Food has been a form of communication between his passion and customers. Therefore, he wants to continue the restaurant's reputation through street food. 
As of today, he is continuing operations with a team of 9 workers. There are multiple times where the team is overwhelmed with the workloads because the food usually got sold out within one hour. Despite the current situation, there are a couple of customers supporting Chef Orng's delicious and savory street foods.
The street food store is currently located in front of Joitamoi restaurant until May. The store will relocate to another location after May, and it will be further announced later. If you like to try out Chef Orng's savory high-quality food, make sure to stop by and give it a visit! 
The Menu 
Kayah Porridge with Chicken/Pork – MMK 1500

Kayah Porridge with sausage – MMK 3500 

Sausage – MMK 2000 
Opening Hours 
7:00 am to 9:00 am 

4:00 pm to 6:30 pm 

Porridge with chicken/pork
(Planning to extend the time duration to 5 pm to around 10-11 pm in the future) 
Contact Information
09

771 195020

09  7963 24946 
Currently active on Chef Orng's personal Facebook page, but the official page for the street food has not been created yet. 
Address 
86B, Shin Saw Pu Road, Sanchaung Tsp, Myaynigone, Yangon, Myanmar