Tuesday 5.30pm as the sunsets in Yangon a long night begins of waiting to see who will be the next US President: Trump or Biden? At the same time, as the sun rises in New York polling booth doors are swinging open, it's time for America to Vote.
"No other election has been so significant for the world," said Patrick Pawletko, Indiana Voter, and the world will be watching, even in Yangon.
With six times zones across the USA from Maine on the east coast, to Hawaii in the west, it's going to be a long day.
USA Polls Open: Yangon Time
5.30pm Voting opens in Maine, New York (Eastern States).
8.30pm Voting opens in California with other west coast States.
10.30pm and the polls are opening in Hawaii! So exciting.
Polls Close: Yangon Time (polling booths close at various times, staying open to as late as 9pm.)
7.30am Wednesday 4th the first polling booths close in the eastern states, including Maine
8.30am Wednesday 4th the polls are closing in Manhattan.
11.30am Wednesday 4th the last ballots will have been cast.
Predicting the outcome pundits will be watching Swing States, where polling indicates an unclear outcome as to who will gain the most votes, Biden or Trump.
Swing States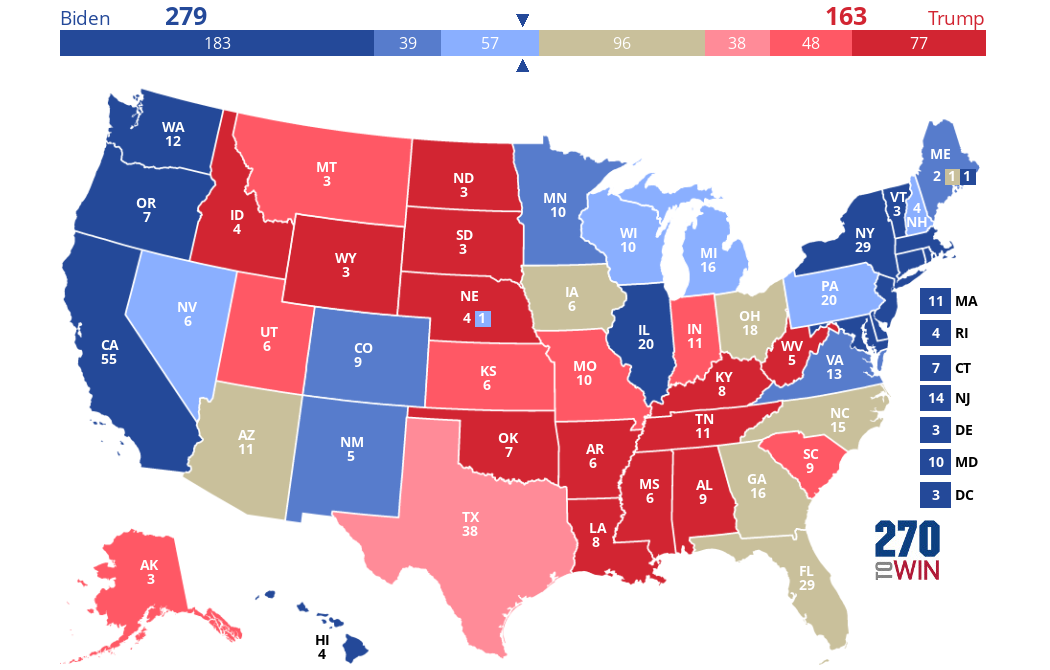 Click the map to create your own at
270toWin.com
With the help of American's in Yangon we've compiled a list of the best sources for news and information to help us through the next few days and possible weeks.
How To Win The US elections?
The next President must win 270 College electoral votes.
Electoral Weighting: Each state is allocated Electoral College Votes, that vary from New Hampshire, (4 Votes) to Texas (38).
In most states the Presidential Candidate who wins over 50% of votes will win all the allocated Electoral College votes, (First Past The Post).
So, if the majority of voters (50%) in Texas support Trump, all 38 Electoral College votes will go him.
Where to find polling information:
A new group 'Yangon Political Junkies' will be monitoring the events of the day with the latest information and commentary. Everyone is welcome to join and keep abreast of the latest discussion.
Ballotpedia and National Public Radio (NPR) provides information on polling in each state, and NPR is a great way to identify key swing states.
270towin Brilliant site that shows the progress of polls over since June 2020 that now gives Biden 290 votes.
The Economist State by State odds of a Biden or Trump win.
NBC will have rolling coverage on the day.
Fox News for rolling coverage.
What to watch out for on Wednesday
Exit polling will be conducted during the day. This is where voters are asked as they leave the poll station who they voted for.
However, this is an extraordinary election. "There have been an unprecedented number of votes already cast. In Texas, already 9.6 million people have voted! That's more than the total number who voted in 2016 (8,969,226)," said Patrick.
What American's in Yangon thinking?
Alison Hightower
Over the years I've voted 50% of the time for the Democrats. America is in a big hot mess, and we need someone to make some hard decisions. (I voted Trump while holding my nose.)
On Wednesday I'll be flipping between Fox News and CNN for election coverage.
Patrick
Politics is like eating junk food, addictive, so I'm rationed to watching from Wednesday morning.
This election is nerve racking. We may not know the final result for weeks. Postal votes in key States (Pennsylvania, Wisconsin and Michigan) will only to be counted after Wednesday.
What worries me most is this election is Power-Cake and unless we have a decisive victory there could be trouble.
Tamara Doak and Tina Hintz
We're scared and excited. I'm taking Wednesday off work and will be stress baking all day for guests coming over at night.
We expect riots. The country is split, and not in a positive way.