With the world under lockdown, it is all too easy to let negativity get the better of us. But there are plenty of ways to stay one step ahead of the pandemic blues. Here are five movies that are guaranteed to bring you joy, or more than that.
1
From Beijing With Love (1994)
by Stephen Chow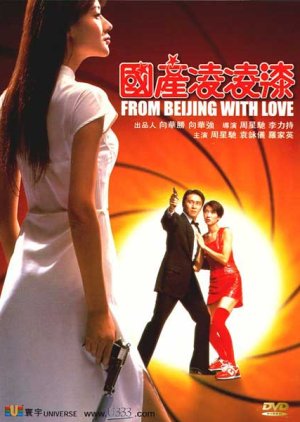 Stephen Chow Sing-Chi, the king of Hong Kong comedy, stars in this spoof of James
Bond spy thrillers as Ling Ling-chat, who leads a double life as a pork vender and
secret agent. He is sent to Hong Kong to investigate a case involving the theft of a
priceless dinosaur skull. Another agent, played by Anita Yuen purportes to help,
while in an attempt to kill him. Crude, silly and sometimes dark —— Chow's
nonsensical humour is the charm.
2
Lost in Translation (2003)
by Sophia Coppola
Charlotte, wife of a photographer, meets Bob Harris, a faded movie star in Tokyo
who attempts to escape from his sour marriage and reluctantly takes up a lucrative
$2 million job to endorse Suntory whiskey. Amidst the high-rise strangeness of the
metropolis, Coppola pins down the intercultural moonbeam that guarantees to lift
your spirit, though with a heartbreak-ending.
by John Jeffcoat
This film begins with Todd Anderson (Josh Hamilton), an American who is sent to
Bombay to train his replacement and the other employees in the call centre, and
later asks his fellows to pose as Americans to sell China-made cheap junks. From
being indifferent to concerned, he eventually submerges himself in Indian culture.
by Rajkumar Hirani
The two pals revisit their college days and recall the memories of their friend,
Rancho, a free spirit who used inspire them to pursue their dreams, even being
called as "idiots" by the rest of the world.This movie begins with a quest for a lost pal,
long-forgotten memories and, ends with throwing off shackles of the rotting
education system.
5
Chungking Express (1994)
by Wong Kar-wai
A person may like pineapple today and something else tomorrow, and a city, like
Hong Kong could also be a can of expiring pineapples in the eyes of Wong Kar-wai.
It is a bifurcated romance narrative of two lovesick policemen and two women, but
everything, indeed starts with the building Chungking Mansions, a sinful place of sex,
drugs or a food paradise in Hong Kong's Tsim Sha Tsui neighborhood. Through the eyes of Wong and cinematographer Christopher Doyle, this dreamlike romance is
more than a California dream.