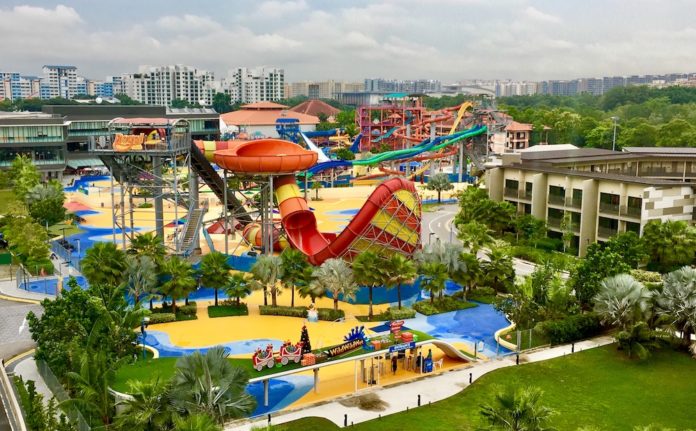 Downtown East, also known as Singapore's one-stop lifestyle and entertainment leisure area, turned 30 years old on November 10th 2018. The National Trade Union Congress Pasir Ris Resort was rebranded as Downtown East in 2002, and has since been providing guests with affordable entertainment and lifestyle pursuits.
2004 saw the opening of the biggest waterpark in Singapore, the Wild Wild Wet, and it was recently revamped in 2017 – adding even more thrills and spills.
The expanded water park features both family-friendly and thrilling rides to cater to both families with young children, as well as thrill seekers. Rides include Asia's first hybrid ride Royal Flush and one of Asia's longest free fall water slide Free Fall, Singapore's first four-lane mat racer slide, Kraken Racers and a high-speed 360 degrees extreme looping ride Vortex. For smaller children, there's a selection of smaller rides in the Kids Zone as well as pools with playgrounds. Cabana tents are available to rent for guests to change and store their belongings.
Connected to Wild Wild Wet is another new addition to Downtown East, D'Resort which opened in 2015. An nature-inspired resort with different types of rooms, guests can relax away from the bright lights of the city.
Guests can also head down to neighbouring Market Square for dining and entertainment options. The various choices for dining options include Korea's Mukshidonna, Mellben Seafood, India's Flaming Spice, OBAR Live House and Forest 4 Darts Cafe. There's also a Tayo Station for kids to play in and a branch of Japan's iconic UNIQLO clothing label.
Anyone still feeling active can head down to E!Hub for a bowling session at Singapore's largest bowling centre operator Orchid Bowl which hosted the 28th SEA Games in 2015. D'Resort guests can enjoy the nightlife at After Dark @Wild Wild Wet and some pool at the Cue Guru until late.
On its 30th birthday, Downtown East celebrated with a full day of music from local musicians and delicious bites at the food bazaar.
Considering visiting Wild Wild Wet which is just a 15 minutes drive from Changi Airport? Tickets prices are vary between weekdays and weekend holidays, start from $24 to $32. Family packages are also available, for more information visit wildwildwet.com.